Over 30 years of experience
History
The Hightex Group has well over 30 years of experience in the construction and design of membrane and foil structures.
Worldwide, the Hightex Group has successfully realized countless membrane construction projects such as sports stadiums, airports, train stations, atriums, shopping malls, leisure pools, pavilions, works of art and many special buildings.
Due to the ever-increasing need for maintenance of these structures, we have focused and specialized on this topic.
Based on years of developing individual and sustainable maintenance concepts, we can decisively extend the service life of membrane structures.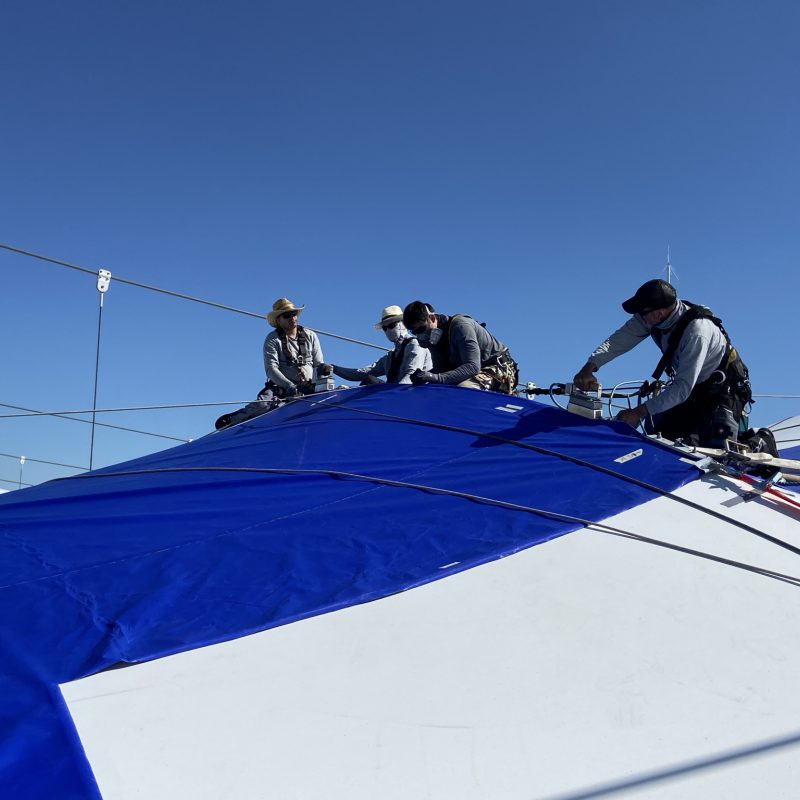 Our Team
The Hightex Maintenance team combines all the critical disciplines that are important to a long-term upkeep of membrane buildings. We are experienced project engineers, manufacturing and installation specialists as well as electrical engineers and support you in all questions and tasks of structural maintenance of membrane roofing and facades.
The state-of-the-art technology and innovation coupled with the classical craftsmanship values create long-term and satisfied customer relationships.
Our IRATA certified team is trained in all rope access techniques.
Equipment
Implementing the latest technologies, we set new standards in the maintenance of membrane constructions. The high-quality standards and continuous development of our equipment ensures maximum performance for our customers.
The use of drones, thermal imaging cameras, 3-D measurement, differential pressure analysis, layer thickness and membrane tension measurements are a matter of course for us.
Career at Hightex Maintenance
Hightex Maintenance offers long-term career prospects with opportunities for advancement.
We share passion for textile constructions and have fun at work in a professional team.
Accounting / Financial Controlling (m/f)
Kolbermoor, Germany
full-time
Backoffice / Projectassistance (m/f)
Kolbermoor, Germany
full-time
Wish to join our team? Send us your unsolicited application now.
apply now