Applications
The evolution of membrane material from purely textile materials to modern, coated fabrics and membranes enables a variety of applications.
Membrane building transferred the tradition of tent construction into modern architecture. Through the low weight of the material, membrane constructions reach a lightness and transparency, which optically impresses architects as well as engineers and opens new building opportunities. Other than their classical application for wide-span roof construction, membranes also make for astonishing facades.
Membranes enabled retractable roof constructions, making event locations independent from weather and thus more profitable and interesting - for operators as well as for visitors, both benefiting from their outstanding acoustic and thermal properties. Just like in the construction of tents, the very beginning of textile architecture, modern membrane construction today still ensures human well-being.
The classical application for membranes is roof construction. They protect from rain and light, they defy the elements just like a tent. By the use of membranes, long distances can be spanned with minimal material use. With only a fracture of the weight typical for roof constructions, the lightness and elegance of membranes can promote buildings into the ranks of architectural icons.
Through membranes, ultimate lightness in building can be achieved. Especially when looking at facades, this becomes particularly clear. The special properties of membranes enable an unprecedented variety in design that changes the world of architecture. New design forms as well as new concepts for the control of lighting and indoor climate can be realized through the use of membranes.
Humans strive for light. Bright rooms comfort us. This is especially true for large buildings. The transparency of membranes sets no limits to the ingenuity of builders. Be it roofs or facades of modern sports stadiums - large halls that give visitors the feeling of being protected while still letting them enjoy the atmosphere in daylight and without artificial lighting. During night time, on the other hand, membranes enable impressive light effects.
Membrane buildings which have to be dismantled and rebuilt several times or retractable folding membranes often used for sports arenas, place the highest demands on the material. Based on half a century of corporate history in building with membranes, Hightex grants supreme experience and expertise in building and installing retractable roofs and the right choice of material. Proof for our skill can be found in many completed buildings around the world.
The easiest and most frequently applied supporting technique for large membrane areas is pneumatic stabilisation. The multi-layer membrane modules filled with air are very flexible and create new opportunities – acoustically and thermally.
Very low weight, its transformability, the small storage volume and the quick installation and uninstallation are what make pneumatic constructions so extremely useful and popular.
Through constructive solutions, extremely thin material like membranes can be used for thermal insulation. Multi-layer construction with air gaps in between, or in combination with insulation material show best results. Printed multi-layer constructions protect from too much solar radiation and overheating. Depending on the location and demands, membranes can decrease loss of heat or provide precious shade.
Transparency and lightness are what makes membrane buildings so special. Thus, solutions for acoustic challenges demand intelligent approaches. The choice of a fitting material in combination with innovative ideas is the first step towards exciting results. Multi-layer constructions have proven to be more than suitable for this challenge. Microperforated, transparent membranes spanned under another roof membrane reach highest absorption figures. Through a multi-layer buildup even effective sound insulation can be achieved.
Membranes provide outstanding opportunities for the targeted use of light. Their transparency enables diverse design approaches for optical effects through sources of light. The use of prints and new LED-technology turn membranes into projection surfaces thus making them the perfect tool for lighting technology and design.
Material
The properties of membranes allow nearly unlimited possibilities for the realization of building projects.
Thanks to its low weight, its flexibility and translucency, large areas can be spanned or coated and thus exceptional constructions can be built. Long since, membrane material offers application possibilities far beyond protective functions. The combined application of multiple material layers enables solutions on highest standards regarding thermals and acoustics.
It also ensures sound insulation as well as the implementation of challenging requirements such as cooling or heating functions. Modern membrane material can be printed with motives or even designed in individual colors. For the success of a project, the right choice of material is crucial. Including membrane specialists at an early stage of the project or even during the planning phase ensures that all advantages of a membrane regarding costs, longevity and maintenance intensity can be used to its fullest extent.
MEMBRANE
Thanks to membranes, there are almost limitless possibilities for design in building.
Through the use of modern textile material, architecture today can achieve much more than building a classical circus tent. Rather, whole landscapes of roofs and facades become reality.
mehr erfahren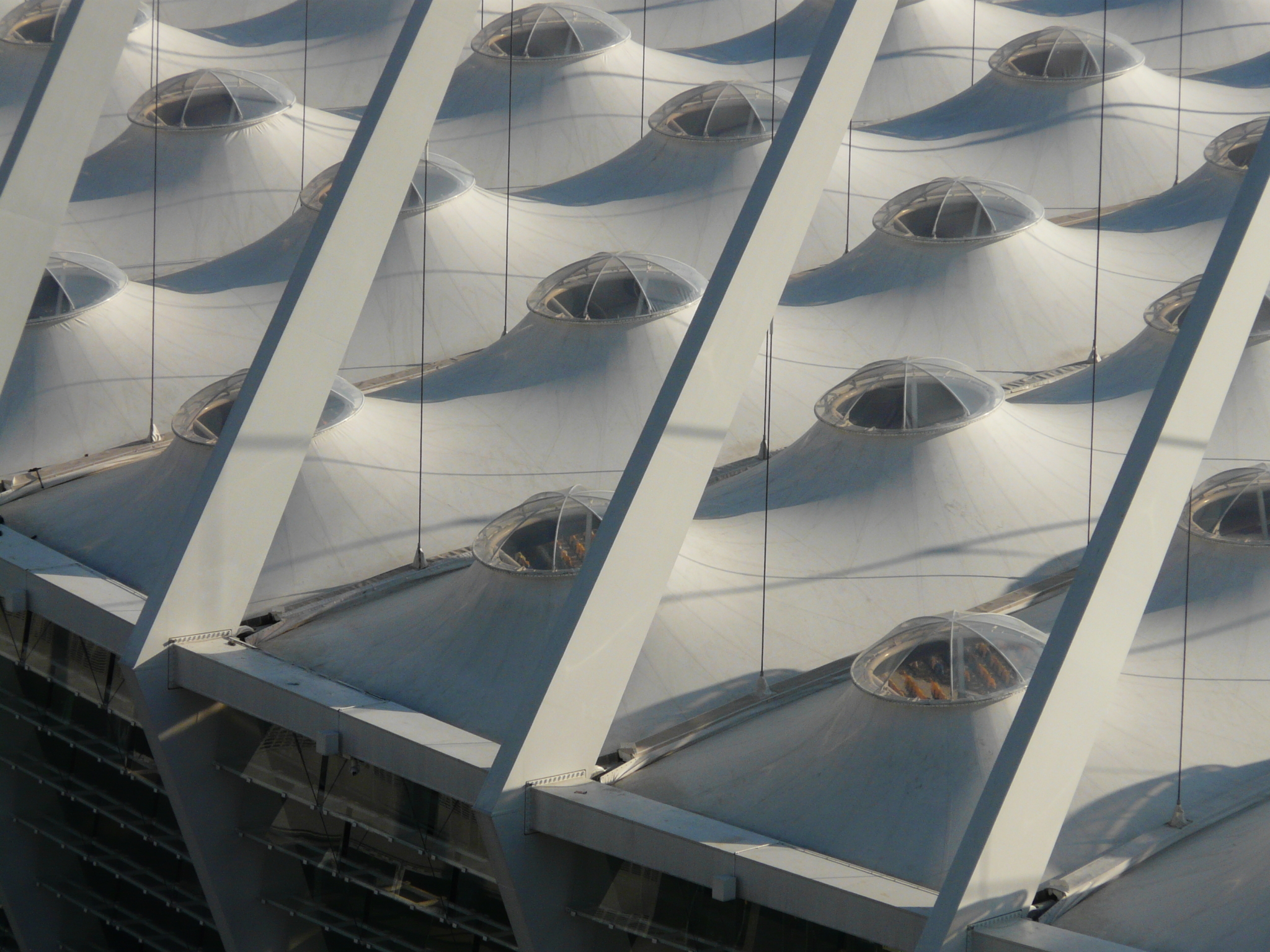 SUPPORT STRUCTURE
In between the classical construction methods with wood, concrete, glass and steal, membrane structures now have a place of equal importance. In interaction with the other materials, membranes enable construction of elegant lightness and large spans.
mehr erfahren